Networking & Collaboration
Much like in many other regions across North America, an important part of developing your professional career is expanding your own professional network. When you build professional relationships with other people in your chosen career field or sector, and outside of it as well, you keep yourself top of mind with potential future colleagues and employers while expanding your interpersonal skillset.
The Cape Breton Connector Program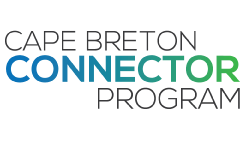 The Cape Breton Connector Program matches community and business leaders (Connectors) with local and international graduates, newcomers, and other qualified professionals (Connectees) in their industry of expertise.
The Connector Program is a simple and effective networking program that connects driven individuals with industry leaders who can help facilitate the growth of their careers here in Cape Breton.
Join the Connector Program as a Connectee or a Connector here!
Chambers of Commerce
Our local Chambers of Commerce (Strait Area Chamber of Commerce and Cape Breton Regional Chamber of Commerce) are excellent resources to expand your professional networks. Both chambers regularly host events and initiatives designed to introduce you to other local businesses and employers, allowing you to explore potential business partnerships (and new employment paths) you may not have thought of before. Find out more here.
Click here to submit an addition/edit to this page
Last Modified: September 8, 2021