Ocean Farming Web Series
In February 2022, the Cape Breton Partnership and Nova Scotia Community College (NSCC) kicked off a five-part Ocean Farming Web Series. The series focuses on bringing the local Cape Breton – Unama'ki business community together to hear from industry experts on a range of topics important to the success and growth of the ocean farming sector on Cape Breton Island.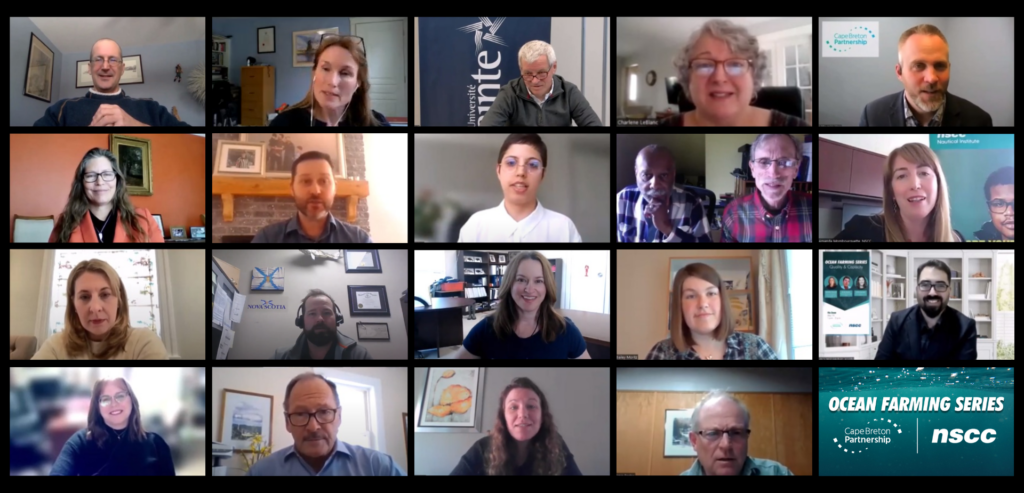 See below for the recordings of each session in the series:
Ocean Farming 101
Featuring Dana Morse, Extension Associate at the Maine Sea Grant College Program and the University of Maine Cooperative Extension.
Food Security & Environmental Sustainability
Featuring Stacey McCarthy, Marketing & Communications Manager, Aquaculture Association of Nova Scotia, Alicia Lake, Executive Director, Cape Breton Food Hub, and Allison McIsaac, Biologist of Eskasoni Fish & Wildlife Commission. The session was moderated by Amanda Mombourquette, Community Innovation Lead at Nova Scotia Community College.
Pathways to Entry & Regulations
Featuring Tom Smith, Executive Director with Aquaculture Association of Nova Scotia, Michael Moore, Manager with Louisbourg Seafoods – Cape Breton Bivalve, and Melissa Rommens, Vice President with Sustain Aqua. The session was moderated by Nathaniel Feindel, Manager of Aquaculture Development and Marine Plants Harvesting for the Nova Scotia Department of Fisheries and Aquaculture.
Quality & Capacity
Featuring Michelle Theriault, Director of Université Sainte-Anne's Marine Research Centre and satellite campus in Petit de Grat, NS, Ashley Sprague, Manager Seafood Services at Perennia, and Giulia Pereira, Sea Farm Operations Faculty, Department of Technology & Environment at Nova Scotia Community College. The session was moderated by Dan Lane, Interim Director – Lobster Quality Research & Innovation Centre de recherche marine, Université Sainte-Anne.
Innovation & Readiness
Featuring Charlene LeBlanc, Aquaculture Consultant & Owner of LeBlanc Seeded Lines, Ernie Porter, Owner of Town Point Consulting, and Bailey Moritz, Program Coordinator, World Wildlife Fund. The session was moderated by Tim Menke and Gene Kersey, Co-founders and Directors of Arc of the Coast Eastern Cape Breton Co-operative Alliance.
To be notified of future sessions and updates, sign up for our distribution list here.
---
For More Information
Need more information, assistance, or support? The Cape Breton Partnership works on behalf of all Municipalities and First Nations in Cape Breton – Unama'ki and can connect you to the tools or information you need. Contact us today or explore our database of business supports at www.EntrepreneurCB.com.
Click here to submit an addition/edit to this page
Last Modified: June 16, 2022